Please keep Invasion youth and young adult ministries in your prayers as we re-enter into this area of ministry. We have the bus; now the mission is to pay it off 100 percent. Join your faith with us as we call in the finances. The total amount of the bus was $172,000. We have raised $104,000, and we still need $68,000.
We have $117,000 of $172,000 needed!

68%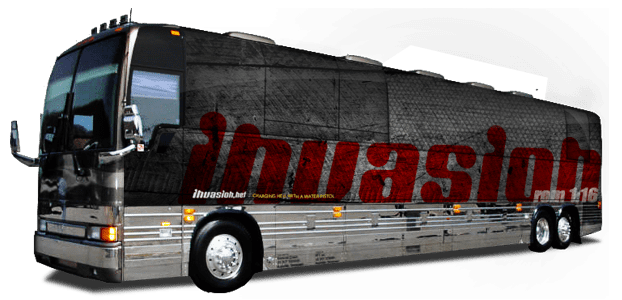 Help us take the Invasion Experience on the road! Click the button below to give to the Invasion Bus Project. Remember to put "Bus Project" in the memo!
Experience the Outpouring
The average hours of sleep per night you'll get at invasion this year.
The average number of lifelong friends you'll gain each conference.
The number of Redbulls consumed per person on any given day.
The number of teams that take home the champion trophy.
Before coming to Invasion I had a hard time staying hot for God. Now I am on fire for God for real!
VD, Age 17
I discovered that Jesus has forgiven me of my sins and made me free. It felt like the worlds' pressures were lifted off my shoulders. Amazing!
SS, Age 14
God revolutionized my spirit! It was all His perfect timing. His spirit moved in my life so drastically and our youth's too!
TP, Youth Leader
Through attending Invasion God delivered me of depression. I gave my life to Christ that very night and I have never been happier.
FH, Age 13
Invasion is a totally different experience encouraging those kids to press into God. My thirst and hunger for God is never ending! Thank you for initiating the change in my life!
CM, Age 15
If you have questions or comments, get in touch with us.
Our team is standing by, ready to help you with questions about the conference, the ministry, and the mission.
Invasion Youth Ministries
2010 N. Stark Rd.
Midland, MI 48642
(989) 832-7547
information@invasion.net